It is well documented that lavender oil has been in therapeutic use for thousands of years.
Caution is advised when using essential oil during pregnancy, breast feeding, or in cases of epilepsy or fever.
Lavender oil can act as an antidepressant, analgesic, antiseptic, healer of wounds, and reliever
of nerve disorders. It can also ease lung and sinus congestion, and muscle and joint stiffness.
Everyday uses of lavender oil include:
A few drops in the bath for aching muscles and relieving stress. It can also be splashed
onto your head while showering.
Relief of minor burns. After treating burns with the usual 5-10 minutes of cold water, gently rub oil into the
affected areas. This also applies to sunburn.
Relief of headaches by applying to the forehead, temples, and the nape of the neck.
For relief from all insect bites – from bees to sandflies- and from stinging nettle.
For cuts and wounds. Lavender oil aids healing, may prevent infection and soothes pain.
For most skin complaints, including acne. Treat by applying lavender oil mixed with a carrier oil or cream.
Insomnia can be eased by applying oil to the temples, and the nape of the neck, or sprinkled
on the pillow. For reducing snoring also rub oil into the soles of the feet.
In oil burners (candle or electric), lavender oil can be used neat or diluted with a carrier oil or water.
Lavender can be mixed with other essential oils to create your own blends.
A few drops added to the water in your steam iron will refresh your laundry. A splash of oil can also be added to your wash.
Angustifolia oils (Lavender Fields' Pacific Blue) are advised for internal use on mouth ulcers and cold sores.
For travel sickness, it can be used on the tip of the tongue, behind the ears and around the navel.
Hydrosol, a product of the distillation process, is used as a toner for all skin types. It is 100% distilled water,
impregnated with micro-molecules of essential oil and water-soluble plant components.
It can also be added to bath water as a special treat.
Lavender oil has one of the lowest allergens of all essential oils but you should always
test the oil on a small section of your skin for irritation.
We are always pleased to hear of new uses for Lavender Oil. Recently, a horse trainer told us
of applying oil to his horses' nostrils to calm them before transporting them in floats.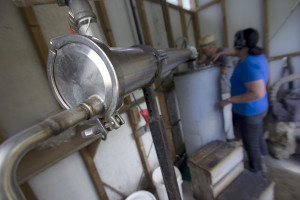 If you have any novel applications, we would love to hear of them. Contact us at info@lavenderfields.co.nz